Responsible Serving of Alcohol
Course Approval
Pennsylvania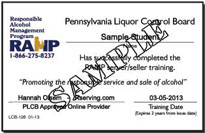 The Responsible Alcohol Management Program (RAMP) Server / Seller Training provided by Rserving has the approval of the Pennsylvania Liquor Control Board as a valid curriculum for their RAMP, server/seller training.
This training will provide you with the tools you need to help you serve alcohol responsibly. Get your RAMP training for PA online today!
This on-line Server/Seller Training is one of five components that must be completed in order for an establishment to eventually become RAMP certified. Purchase 10 or more courses with an employer account for only $9.95 per employee.
After you complete this online RAMP course, you will be able to print a copy of your certificate right away.
Receive your official RAMP Server/Seller card in the mail for NO EXTRA CHARGE!

Receive an official PSCC Wallet Card for PA Responsible Serving of Alcohol in the mail!
No Extra Charge!
After you complete the course, you are able to generate your printable certificate for PA Responsible Serving immediately and you will automatically receive your PSCC bartender's license / wallet card for PA in the mail within 15 days. There is
no additional cost
to receive your bartender license / wallet card!
Responsible Serving $11.95
Purchase 10 or more with an
employer account
$8.95
Earn your state-specific responsible beverage service / alcohol seller/server certification from this online Responsible Serving Certification Course!
Special Pricing: $11.95 Valid Through August!
You will have access to the course and be able to review the course material for 30 days after you have completed the course and received your certificate.
---
Related Courses for PA: