Server Training Home
PSCC offers food and alcohol certification training for bars, restaurants, convenience stores, and grocery stores. The leader in online training, PSCC is rated A+ by the BBB. Upon graduation from one of our courses, you will receive your official wallet card and/or state license. We encourage you to explore all that PSCC has to offer; please see the map below for state approvals. Take a PSCC course today!


Learn Bartending
Have fun, meet people, and make excellent money. This interactive course provides training in alcohol, wine, customer service, and more.
Responsible Serving of Alcohol - Special December Price!
Obtain your alcohol seller/server or bartender license; PSCC offers courses for both on-premise and off-premise server permits. Approved in most states.
Responsible Serving for Food Handlers
Obtain your food handlers card (i.e., food handlers permit). Please click the course on the right for state requirements.
Certified Food Manager (CFM)
Train online for your CFM; most states require a CFM for your bar or restaurant. Simply click the course to the right to find your state requirements.
Re-Certification for Food Managers (CFM)
To renew your CFM, simply take this recertification course to meet your state requirements and stay up-to-date. Depending your state, successful completion of this course may extend your certification for another 3 to 5 years.
Rserving Tobacco
This course is designed to meet FDA guidelines for tobacco training and is useful for anyone involved in the selling of tobacco products.
Liquor Knowledge
Earn more money through product knowledge. Learn more about the alcohol you are serving - such as taste and distilling processes - in order to provide even better, more-personalized customer service.
Wine Knowledge
If you want to work in a restaurant that serves wine, you can improve employability and increase your earnings by having knowledge of wine, fermenting processes, flavors, etc. This is a great course to take for making wine suggestions to customers.
Waiter / Waitress
Earn more money by learning how to work in a high-end restaurant, take orders with proper technique, and provide excellent customer service. This knowledge will help you get the job you desire.
Gratuity Secrets
TOP SECRET: This course offers you valuable tips on how to increase your income via tips! Learn how customer service can pack your restaurant/bar and give you higher earnings from tips.
Club Drugs
This training helps bartenders and servers recognize drug issues with their customers, which can help prevent disturbances. Preventing disturbances helps maintain the happiness of customers. This course is also used by state agencies for drug abuse training.
Incident Report Logs, Bartending Books, Posters
Using report logs is an effective method of reducing liability, which is a goal of many establishments. Bartending books are a great resource for every bar, and Responsible Serving posters can be ordered for your entrance door.
Employer Packages and Master of Bartending
For
employer discounts
and employee/student tracking, please click the link provided or the tab at the top of this page.
Want the title of Master Bartender? Get your
Master Bartender Card
today! Our package deal will train you in various aspects of bartending and make you an elite bartender. Order now - the current package price saves you over $125 and is a deal you cannot miss!
---
Choose a state to view bartending license requirements for that state.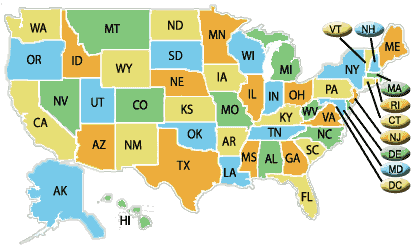 ---
Click on your state to find out more information about state requirements for selling or serving alcohol.
Choose a state to view bartending license requirements for that state.
Click on your state to find out more information about state requirements for selling or serving alcohol.
Minimum ages to bartend
---
* With supervisor that is 21.
** Unless local ordinance has higher requirements. 21 in Chicago.
---